[Posted @ 6:48 PM]
Whee, I finally ordered the three Strawberry Panic! Drama CDs from Play-asia.com XD.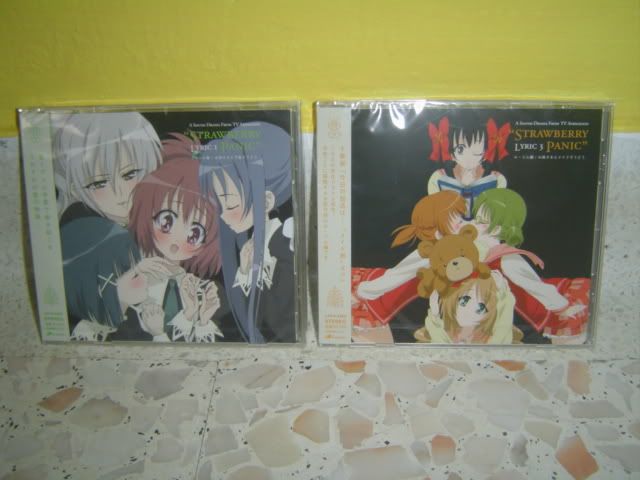 However, only two arrived =(, 'Strawberry Panic! Original Drama CD Lyric I, Miator Compilation' and 'Strawberry Panic! Original Drama CD Lyric III, Lulim Compilation'. 'Strawberry Panic! Original Drama CD Lyric II, Spica Compilation' will only arrive after the first week of August. Oh well. It's okay I guess.
WONDEFUL NEWS! Whee, Seven Seas Entertainment has announced two of their latest yuri licenses, 'Hayate Cross Blade' はやて×ブレード by Hayashiya Shizuru (Onegai Teacher, Strawberry Shake Sweet, Sister Red) and 'Akatsuki-iro no Senpuku Majo' 暁色の潜伏魔女 by
Hakamada Mera
(The Last Uniform aka Saigo no Seifuku). They also announced two yuri novel titles: 'Girls Love' and 'Girls Revolution'. I wonder what's the novels about lol ... never heard of it -.-|||.
Source from
animenewsnetwork.com
.
Whoa, I'm seerrriously going broke lol but happily broke XD. I did
mention
they also licensed 'Hatsukoi Shimai' and 'Voiceful' as part of their Strawberry Line of Yuri Manga ... great year!!! I hope there's more such surprises later on ... I'll be sure to buy them ... =).
PS: Angelbox's Strawberry Panic! Doujinshi - Ichigo no Tsubomi's done, will be posted tomorrow. Cya!
PPS: Tokyopop has
licensed
the manga for Kannazuki no Miko ... O_o
[Signing off @ 7:31 PM]