[Posted @ 9:15 PM]
Ah, finally, YanZi's long awaited 10th album is here, the previous
'Stefanie Sun Yan Zi - My Story Your Song'
album doesn't count cos it's just a compilation of the popular tracks from her previous albums and had only one new song, which was 'Yu Tian'.
As usual, I preordered with YanZiUnlimited club members, got the Taiwan version and Singapore pre-ordered version. EMI Capitol Singapore imports TW albums to SG, so the album packagings are the same for both sides.
Singapore Preorder Version :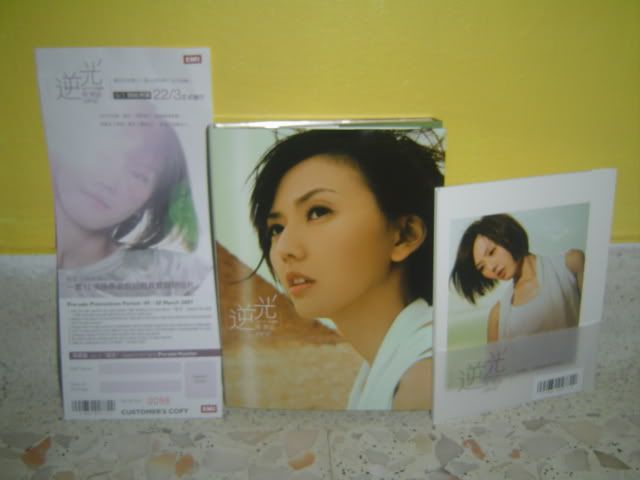 Taiwan Preorder Version :
1st Track - In The Beginning
: The starting kinda reminded me of ... an Olympic theme hahaha, but then the sounds of flute seep in, makes me feel like getting up and start running with a torch in my hand LOL. Nevertheless, it's really a pleasant instrumental appetizer, besides, it's produced and played by YanZi herself! +100.
2nd Track - Ni Guang '逆光'
: A song full of hope and optimistic, especially in the chorus part. It's like there's this person who was blinded by the light searching for his/her soulmate but he/she never gives up and goes against the light to find his/her soulmate. It's like rendering oneself vulnerable to the light, although fearing that you might get burnt or hurt by it. Kinda encourging in some way.
3rd Track - Meng You '夢游'
: Sounds like a ... kiddy song from the start, like I'm in a circus or something, heavy usage of the flute here as well. The 'Dala Dala Dala, So So Ti So So Do' kinda brought me to compare it to Doremi song and Gone With The Wind. A relatively 'short' track, barely 3 minutes long.
4th Track - Guci Guci '咕嘰咕嘰'
: I really like this, very catchy and the lyrics were so random and hilarious. Like 'Sleep, wake up, brisk walk, bath, knock off, sleep ...' LOL. 'Who's better than who, how much difference could we be? Sooner or later, one will need to report to God. Since one's bad, can't waste off the sins, use strength to reflect.' HAHAHAHA. 'We are all good, we are all birds, migrating away during winter' LOL. 'There's no good friend in the moon' LOL, E.T @_@!!!! The melody suddenly went in this haunting mode in the middle then suddenly switched back to the catchy chrous again, quite refreshing. I love the English rap the most, 'Let's wake up in the mornings, Let's go to bed at night, Let's make hay in the big sunshine, Yeah we'll make hay in the light, Let's bury all our hatchets, Let us get along, Let's hold our hands and save the world. Let's not.' LOL, very cheeky, YanZi's voice was in this cute squeaky tone haha. The tune was like it's from the I'm not sure of the song title but it goes like this 'I got big butt I cannot lie.' Hahahaha.
5th Track - Wo Huai Nian De '我懷念的'
: Whoa, YanZi's signature slow ballet melody, the lyrics were really touching, about this girl who was betrayed by her boyfriend apparently, the third party smsed her about the affair. But the girl still loves her boyfriend and recalls the love and happy moments they spent together, but in the end, she lets him go, as she questioned him on the many things they did together and one betrayal took everything away. Wordlessly, without tears, she left him. Very very touching song, really like this alot, like Wo Bu Nan Guo.
6th Track - An Ning '安寧'
: As the song title suggested, it's a pleasant, quiet, slow moving song, perfect song to listen when you're about to sleep haha.
7th Track - Piao Zhe '飄著'
: Another emotional charged song, especially in the chrous parts, like as if I'm floating through this dimentional fantasy tale.
8th Track - Ai Qing De Hua Yang '愛情的花樣'
: The starting mumblings YanZi muttered doesn't make sense lol and YanZi confirmed that those were just some utters. Kinda like a mixture of gibberish of korean-german haha. A catchy tune, mischievous rendition of a human relationship. I like this part, 'You're number 1, I'm number 2, it's always like this in the start', very true in a relationship hahaha, then in later parts, 'You say one, I say two', different opinions heh.
9th Track - Xuan Guo '漩過'
: This is pretty pleasant to listen lor especially the chorus and the way YanZi dragged the last word of the sentences. The tune and melody's pretty catchy after listening to it a few times.
10th Track - Xu Yao Ni '需要你'
: The lyrics for this song's pretty short, but I like it anyways, thoughtful composition and I like the chorus. Clearly accentuates YanZi's vocals in the chorus and her feelings in this song. Surprisingly, it's quite good and I like it.
11th Track - Guan Yu '關於'
: This song kinda reminded me of the song 'Leave' with traces of country in the melody.
12th Track - Afterward
: Another instrumental piece by YanZi, a finishing calming touch to end the album.
Recommended Tracks : In The Beginning, Ni Guang, Guci Guci, Wo Huai Nian De, Piao Zhe, Ai Qing De Hua Yang, Xuan Guo, Xu Yao Ni
Album Cover/Style Presentation : YEAH! 10/10 for the album cover, I totally dig YanZi's side view, clearly displayed her 'parrot hook' nose structure and and neck line XD, backed up with the majestic pyramids in the background. I wonder why they like to put YanZi's jumping at the back side of the album hahaha. The lyrics booklet was assigned pretty uniquely, the pictures were quite nicely shot, pyramids as the background catalyst for most of the shots.
As for the bad points, I was expecting more shots of the 'normal', humane aspects of Egypt, like the people and their habits, food or their culture, I see nothing of this. Everything's focused on the pyramids and scenery, it's like so cold and distance. [EDIT: Even my mum thinks so.] Everyone can always see pyramids on national geographic magazines mah, maybe even take BETTER shots. So a little touch of some life would be nice ... animals, camels ... you know. Probably the production crew didn't had much time in Egypt cos of the you-know-what incident that they didn't take much photos? Well, I don't know and won't comment so much.
Freebies : Basically, there's two different kind of freebies when you order from different sources. EDIT: There's 7-Eleven, Mei Gui Da Zhong CD Store and Big 5 CD Store. Mei Gui and Big 5 give a foldable poster and a slot in picture postcard or something like that [See Photo Above]. While 7-Eleven gives 10 postcards which is the same freebie as the Singapore Version, however we get a redemption voucher for some events, which I assume it to be the upcoming April 8th 2007 autograph session. =) =).
Overall : I'm pretty impressed with this ablum, as seen above, I like most of the songs but it doesn't mean I dislike the rest, just that it's probably a little 'boring' than the rest of the tracks. Seriously, I like Guci Guci alot, lol.
Mangas I purchased from Kinokuniya yesterday, The Day of Revolution #2 [English], [es] ~Eternal Sisters~ #1 [Mandarin] and Kashimashi Girl Meets Girl #2 [English]. I was really lucky to spot [es] #1 hiding in the corner of the book shelf hahaha =).
[Signing off @ 9:38 PM]