[Posted @ 3:05 PM]
*Shrugs*
Disclaimer:
I DO NOT TRANSLATE STUFF FROM JAPANESE TO ENGLISH.
only Mandarin to English.
I do however refer to the RAW [Japanese] version sometimes when translating to kind of double check and make it more 'Real' cos i like it lol.
I DO NOT DRAW doujinshis, so I don't claim ANY credits for it, I got the original doujinshi from
Raku-Gun
, so please refer there for the original version, I'm just translating for those non-Japanese readers =). So don't ban me for it =(.
Click on the pictures and out pops a window with a bigger, clearer dimension.
Please do not hotlink on forums, just paste my blog url and direct them to the Manga Page section, thanks.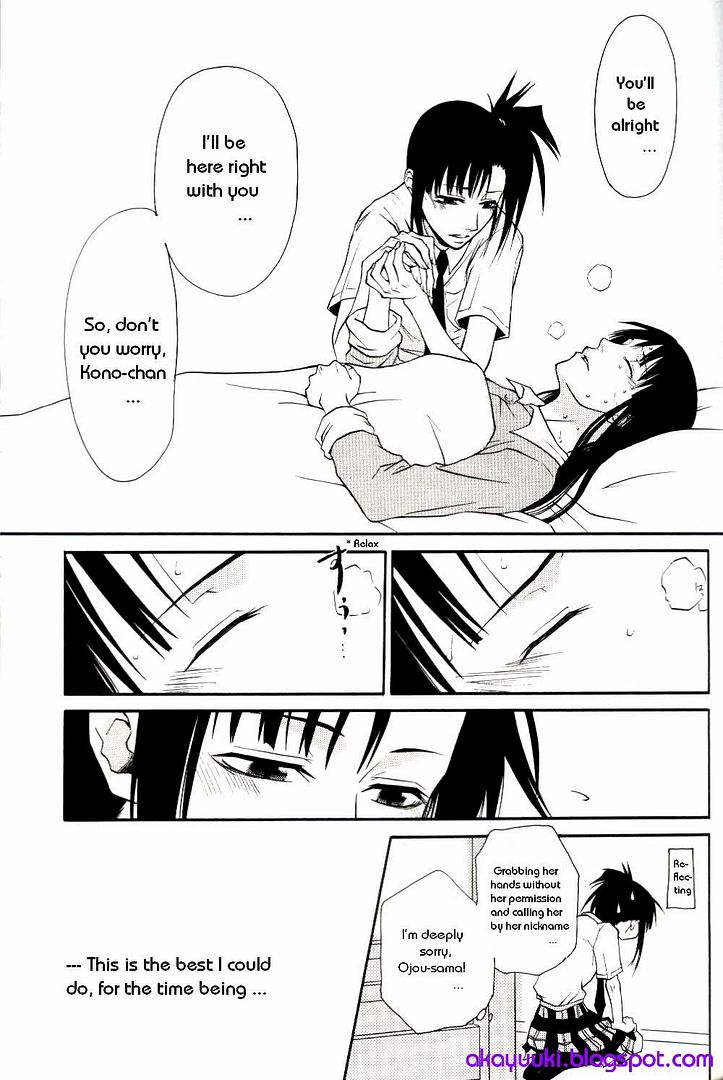 Thank you all for the kind comments and encouragements ... guess I was really terrified of the idea of been banned by doujinshi authors I admired and respect that I just lost the motivation and courage to post again haha. I guess you guys are right, shouldn't just let one comment stop me lol.
I mean I shouldn't be
this
mean to stop at the point [JUST TWO PAGES MORE] where KonoSetsu's gonna kiss isn't it?
Oops, I think I just blurted out a spoiler for the next two pages. Well not really, that is if you saw the preview scans in the
Manga Page
lol.
Anyways, thank you all for the support.
[Signing off @ 3:14 PM]