[Posted @ 4:22 PM]
A quick review of
ChuangYi's online store
before I head off to Malaysia [Genting Highlands] for 4 days.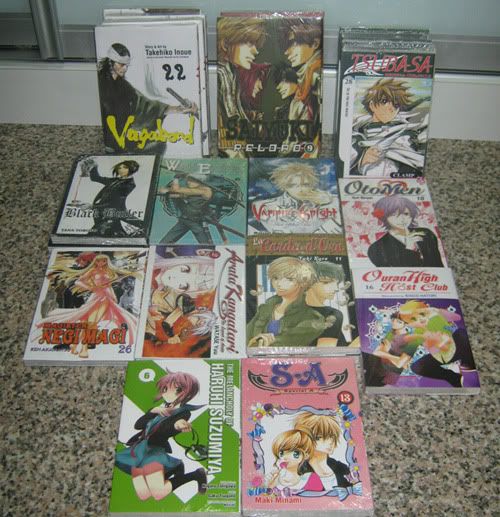 They are mostly backlogs which my lazy brothers missed purchasing for me when I was studying in Australia. So this online service is good for those who have difficulty searching for old releases at a local comic store or you're just plain lazy and don't want to to go out lol. However not all old releases can be added to the shopping cart. I think if you want older releases or titles not found in the online store, you can email them and ask for a quote.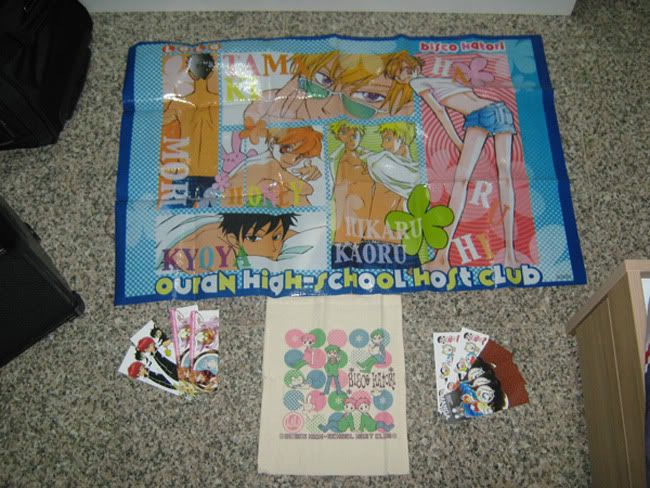 Oh look, they give freebies too, an Ouran High School Host Club ... doormat, a rather rough looking handbag and some nice bookmarks. They also have this credits system where you get 1 credit ($1) discount for every $10 you spend with them. I've gained 23 credits from this purchase =x The downside is that they only have paypal [credit/debit card] as their payment option but it's easy to apply for a debit card [with visa/mastercard] these days so I guess it's alright.
Delivery service; Placed the order last week [14], took them 2 business days [16] to check the stocks and reply back to me. Paid on the same day they replied and delivered today [22] actually they could have delivered yesterday but I missed their calls or was my hand phone switched off? No idea but yeah I checked my mail in the afternoon and saw the email they sent me. So it was my bad xD, felt kinda bad haha but the guy was polite and nice about it.
More purchases posts to come when my stuff from amazon comes, probably at the end of the month \O/ awesome early birthday presents from me to me! LOL. I had to cancel one book and miss several others [GAME OVER, Blue Friends, Shitsurakuen #4, Ren'ai Joshika etc] from amazon jp because the estimated delivery dates were too late, vPOST only allows 14 days free holding time. I'll just order them another time. Besides, I want to make it in time for the 25% shipping charges discount [vPOST Japan & using OCBC credit/debit cards only] ending this month!!! *is a happy blessed chicken*
More last minute packing, cya soon.
[Signing off @ 4:50 PM]