EDITED @ 11/11/2009:
[Posted @ 3:46 PM]
Short update, Candy☆Boy Manga Chapter 1 is out on
COMIC FLAPPER (コミックフラッパー)
.
Tsundere Yuriko
is scanlating it and hopefully we'll be able to see Chapter 1 out soon =D [Seems like she has already translated it and it is in the cleaning/editing process.]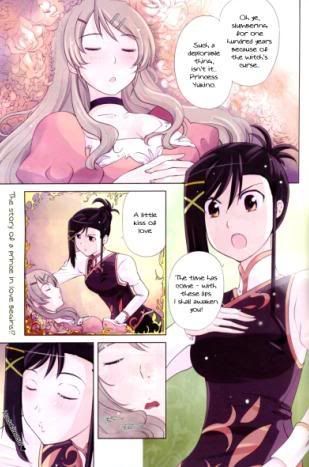 Here's a teaser I grabbed from 4chan and LQ scans are available there as well, kindly scanned by Audio Erotica from shoujoai forum.
Volume 3 cover of
極上ドロップス
[Gokujou Drops] is out, release date on 18 November, 2009. Two teaser pages,
here
and
here
grabbed from yuri amagasa.
There are also 4 other yuri related titles released on the same day,
湯けむりサンクチュアリ
by 天野しゅにんた [Amano Shuninta] who has two of his/her works in Yuri Hime Volume 16 and 17 titled '恋愛構造式' and 'Backshot' respectively. Personally, I like '恋愛構造式' a lot lol cos of the age gap thingy and the sweet 'GODS I WANT MOAR NAO!' ending. 'Backshot' is not bad either, quite interesting for a summer's read xD. As the title suggests, it seems to revolve around different couples in an onsen setting? Awesome teaser pictures over
here
.
空色ガールフレンド
by リカチ [Rikachi]. This I have no idea, looking at the
previous works
of this mangaka, most of them are under the shoujo/josei genre ... hm the artstyle looks okay, let's see how it goes.
ハニー★カルテット
by 所ケメコ [Tokoro Kemeko], similarly to Rikachi, most of this mangaka's
previous works
are shoujo related, see how it goes as well. A teaser from the
mangaka's blog
looks promising *_* Looks like the shoujo-ai/yuri bandwagon is getting lucrative eh?
乙女戦士ラブリー5!
by 城之内寧々 [Jounouchi Nene], had an under-rated story and a tankoubon titled 'Apple Day Dream' that was serialized in Yuri Hime back then. Perhaps the most famous or rather more impressionable stories of his/hers were from Yuri Hime Wildrose lol, Volume 1's 'From Your L-I-P-S' with the Sachiko and Yumi from Marimite look-alikes and Volume 2's 'Teacher's Pet', the S&M story =D.
Lastly, some
awesome postcards or something
a lucky Japanese blogger got of the 5 manga mentioned above. :< I want them too. I'm so gonna order Gokujou Drops, I might order Amano Shuninta's work as well ... hmm
[Signing off @ 4:00 PM]