[Posted @ 3:22 PM]
Candy☆Boy Ep3 out on 26 September 2008, 19:00.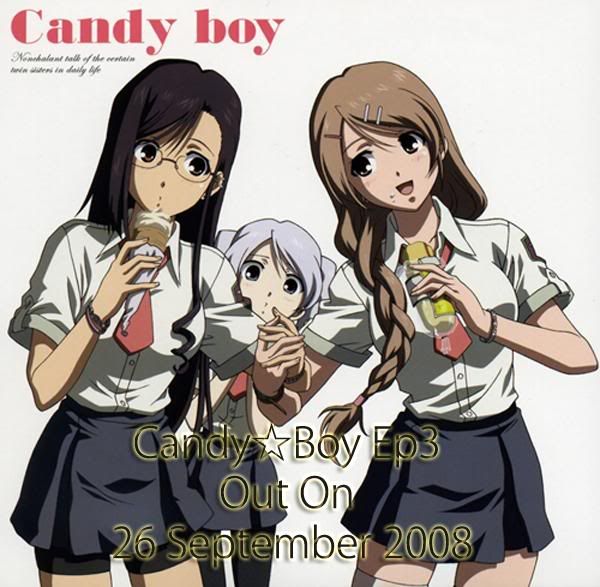 Not much updates as yamibo was down for the past week.
Upcoming Animes;
WARNING: LINK NOT SAFE FOR WORK/MINORS!
1.
Shoujo Sect ~Innocent Lovers~ OVA
Ep2 on 25th September 2008.
EDIT:
DVD Cover 2;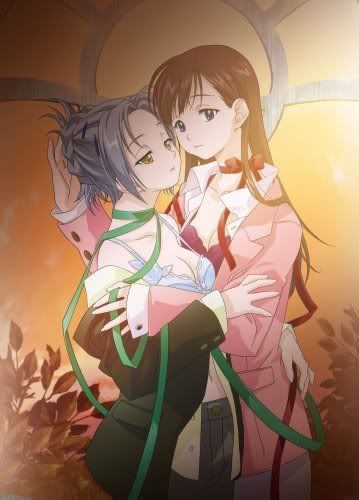 DVD Cover 3;
2.
Candy☆Boy
Ep3 on 26th September 2008 via NicoNico. [This is safe lol XD.]
3.
Hyakko
Ep1 on 1st October 2008. [TS is translating the manga for this, so please look forward to it.]
Animes;
1.
Koihime†Musou
Ep10
2.
Strike Witches
Ep11
[Sauces from yamibo.com and Tokyo Toshokan]
Doujinshi;
-
Manga;
1. [Dynasty-Scans] Bakuretsu Tenshi Chapter 8
2. [Dynasty-Scans] Otoboku Chapter 7 [Yes I read traps!]
3. [Tranquil-Spring] Kimi no Kishi (One Shot)
4. [Tranquil-Spring] Mikarun X Chapter 00
5. [Wings of Yuri] GirlxGirlxBoy Chapter 6 and 7 [END] [Happy ending?]
6. [Dynasty-Scans] Yuri Hime S Volume 4 - Kakera
Others;
1. Robot Chicken
2. Doomsday
3. Shutter
Translation for Tranquil Spring;
1. 14 Juicy - Chapter 3 [3% Done]
2. Weise Frau - Chapter 2 [3% Done] XD
Random rants;
Hit by I think 3 malwares last week lol [No, I wasn't downloading any ero-games!], I have no idea where it came from, probably from me clicking this REALLY amusing email in my junkmail ... argh. Weird pop-ups WITH AUDIO [THAT STUPID BZZZZZ SOUND] started coming out from nowhere randomly and my RAM memory surged like nobody's business, stalling me a couple of times. Anyways, managed to solve the problem, thanks to the experts in majorgeek forum XD.
Woke up really early today, 6.30am ... XD and managed to finish my IBUS3306 individual assignment by 10am hmhm. Had brekky of tomato, ham, cheese sandwich and a small bowl of cereals. Gotta go print my lecture notes for tomorrow and start reading up on Dyesol, even though I did like 2 weeks ago ... lol. Sigh, I still have to research on my IBUS3306 individual assignment on International Contractual Terms for pork exports to Japan o_O||| Busy busy busy ....
[Signing off @ 4:43 PM]