[Posted @ 8:37 PM]
OZMG. MOUSEOVER!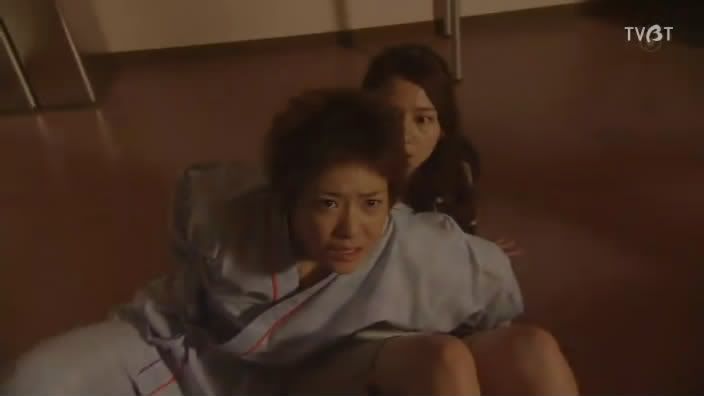 LoL, Ruka really said that, I'm not lying XD. Sousuke was like, *rise eyebrow* 'Your Michiru?' while Michiru was all clueless behind Ruka.
I wanted to watch it 'live' online but I was freaking kicked out of the network last night ... DAMMIT! But sub's fast, it's up like one day later, saw it when I finished my last mid-sem test [It wasn't pretty].
Oh well, Ep2 was hm interesting, as Michiru's senpai continued to bully her, Sousuke as well continued his beating of Michiru [And you thought Michiru would had ran away or called the police *rolls eyes*] although not as bad in Ep1 but it's getting more angsty and psycho lol. Especially the scene where he grabbed Michiru who was holding a scissors and directed it at his right ear ... whoa, talk about spooky.
A new character in Ep2, Ogura Tomohiko, a ... lol wuss who's scared of going home to yell at his cheating wife to get the hell outta his house, as Eri nicely placed LOL. We got a glimpse of Takeru's phobia of sex [Must be some wild woman O_O] as he got uncomfortable while watching a kissing/love scene in a movie dvd they were watching. Anyways, blah blah, Sousuke got jealous and pissed when Takeru went to the hair salon Michiru's working at for a haircut. He was creepily standing outside the store, waiting for her ... lol.
Later, Michiru after promising Sousuke what time she would be back and stuff, managed to watch Ruka on her motorcross competition but unfortunately Ruka fell, had head concussion and was sent to the hospital. Loved the scene where Sousuke too arrived at the hospital to visit Ruka as if he's sizing up his competition lol and ironically completely ignoring Takeru who Michiru is supposed to like later LOL.
Sousuke went bonkers at the hospital and was overheard by Ruka who wanted to visit the bathroom [I thought there's bathrooms in the ward itself?! O_o]. Of course Ruka ignored her limping leg and ran full out to protect Michiru from Sousuke, yelling that 'Don't touch _my_ Michiru!' LOL. Oh well, then it's the end, can't wait for Ep3, it's getting more interesting ...
I believe Ruka tried to convince Michiru to leave Sousuke but like typical dumb lead girls, she refused, leaving a pissed Ruka off. More info revealed about Takeru's phobia and the woman behind it ...
Oh yes, I almost forgot lol, I reckon, the most nerve-racking moment in Ep2 would be that Ruka seemed to have contracted some sort of disease/illness related to
Urology
... and it doesn't look pretty at all. I was thinking of cervix cancer and any other thing related to cancer ... I mean come on, it's a drama after all lol
Oh nos, that means my perfect plot in Ep1 was shattered!!!! T_T.
[Signing off @ 9:56 PM]