[Posted @ 7:22 PM]
I'm a fan of Kosaka Riyu [小坂りゆ] after listening to Claymore's ED, 'Danzai no Hana ~Guilty Sky~' [断罪の花 ~Guilty Sky~].
It was totally awesome, Chuz likes it so I've no doubt anyone else out there will love it too lol. Grab it from
amazon japan
if you like it too!
Tracks in CD;
1. m.o.n.s.t.e.r
2. 断罪の花 ~Guilty Sky~ [Danzai no Hana ~Guilty Sky~]
3. 白紙 [Hakushi]
4. Dober Man
5. Memory
6. 3D♥HEART
7. Platinum Smile
8. ココロの跡 (Kokoro no Ato]
9. the eastern sky
10. Sunny the Ride
11. every struggle
DVD sides;
1. 断罪の花 ~Guilty Sky~ [Danzai no Hana ~Guilty Sky~]
2. Dober Man
3. Platinum Smile
Personal recommended tracks; m.o.n.s.t.e.r, 断罪の花 ~Guilty Sky~, Platinum Smile, Sunny the Ride [I was going THUG FOR LIFE! LOL kinda rhymes] and every struggle [Some of the tunes sound RATHER familiar].
She was rather 'manly' sounding in 'Danzai no Hana ~Guilty Sky~' that Chuz thought she was a male singer lol. I was like, 'Are you tone-deaf, it's a girl, dork!' Haha. '3D♥HEART' is 'cutsy', don't like it ... I'll make an exception if you told me Berryz Koubou's singing it lol.
Anime-related Random rants;
If you have been reading up on Mahou Sensei Negi aka Magister Negi Magi, you should know why I'm doing this happy dance now as I post this spoiler pic lol.
Awww, so cute ahaha, it's been getting too 'dark' and serious lately. I'm looking forward for more fluff of KonoSetsu, heard that Ken-san? LoL.
Random rants;
Phew, it's finally Friday!!!! Starting to think about assignments ... especially for bloody-hell module/course called 'Business Research Methods'. Smells like there's ALOT of researching, writing and thinking to do. I'm hoping to do well in all my courses this semester so I'm not letting this crap piss me off.
It's been like a year since I last studied, I'm not sure if I can stay up late into the night, like 2-3am to finish up projects and wake up at 7am to head down to school in great condition. I think I'm getting old haha. Basically I'm doing okay for the moment for my courses, maybe I haven't really started anything yet ... well I don't know.
Met a friend from Singapore this afternoon who studied in UQ's Gatton campus in a 'dead town' as she putted nicely lol. Really happy to talk to another fellow Singaporean lol, now I finally felt how 'International Students' felt when they see their own people. Even though there's Nic here, it's always like better to talk to a girl I reckon? LOL, ahh no offense lol!
This is to Huiqi, food pics! Here's proof!;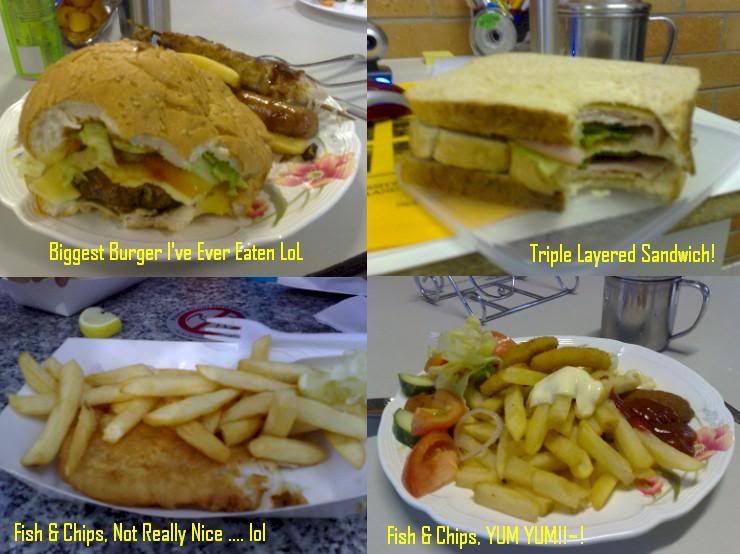 FYI, of course I didn't finish the Biggest Burger I've Ever Eaten lol. I still miss Singapore food like the spicy smelly beans ... sigh.
[Signing off @ 7:51 PM]