[Posted @ 9:02 PM]
As the subject suggested, this post is about Stefanie Sun Yan Zi 'Against The Light' aka Ni Guang Autograph-Signing Session @ Clarke Quay The Central on April 8th 2007, 3pm which was this afternoon ... XD. Too bad if you missed it hahaha.
Anyways, here are some selected photos I took during the autograph session, enjoy.
The stage, shaped like a ehh ... sail boat, probably of the location ... I mean come on, it's Clarke Quay~! Haha.
The booked space for FAN CLUB members only haha, really cool, like they had for the
'A Perfect Day' @ IMM autograph session
too. This time, I'm IN with them =).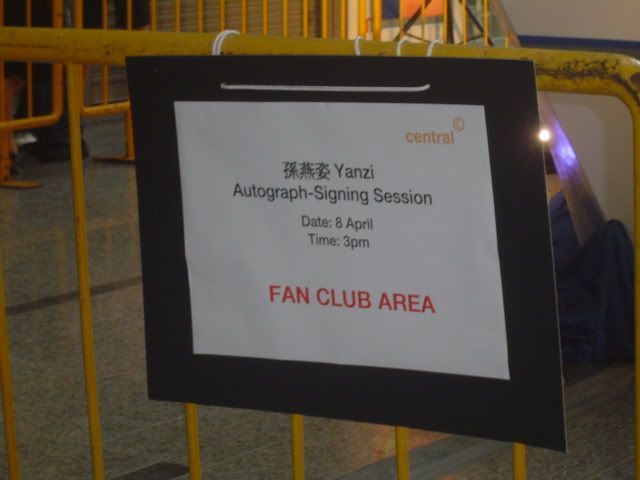 Woohoo, I'm NUMBER 25, like it mattered anyways, the people AT THE BACK, I remembered this girl, she was probably in the 40s number then so what she's in the FC t-shirt, she just rushed in lor, the number 10s+ haven't even went in, the people in the 40s just rushed in from behind. Disgusting behaviour ...
Anyways, YanZi arrived at around 3.30 PM if I'm not wrong, a tact late but it's okay, it's not like it's her fault, she's not driving -.-||. Firstly, YanZi sung 'Ni Guang' then we were like singing along with her but YanZi's like making 'I can't hear the song in my ear piece' expressions lol.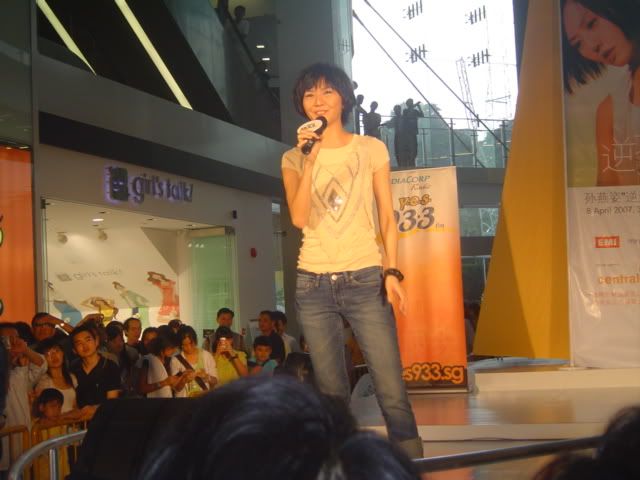 'Mian Dui Xi Wang, Ni Zhe Guang'~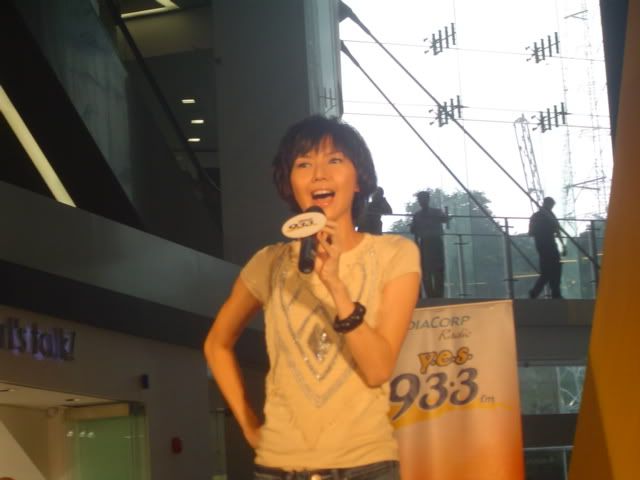 LoL, Titanic, Rose pose. I'm FLYYYYYINGGGGGGGGGGGG~!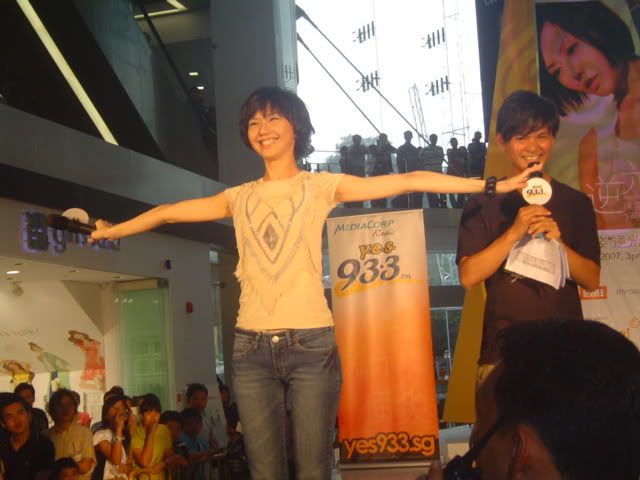 YanZi acting cute, too bad I didn't managed to snap the one she made the peace sign haha.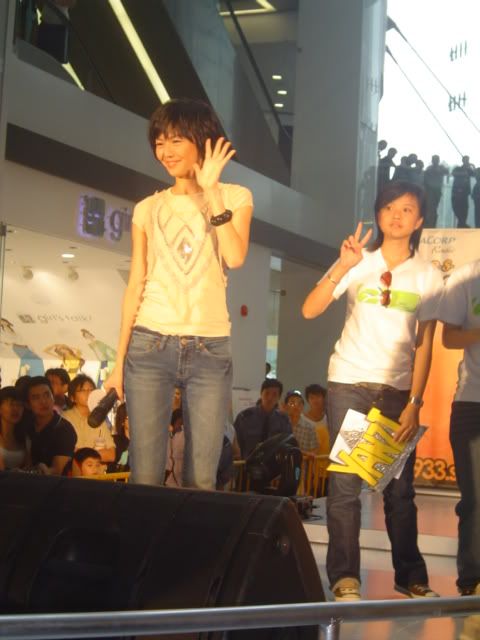 The YanZiUnlimited FanClub made this special poster of the pics of the previous album photos for YanZi to commemorate the release of her 10th Album which is 'Against the Light' aka 'Ni Guang'.
Because it's Easter's Day, the YanZiUnlimited FanClub made some 'eggs' containing the individual fan members' messages to YanZi.
Two BRAVE YanZiUnlimited FanClub members volunteered to be the backstage dancers for YanZi as she sung 'Guci Guci' which we
demanded
requested lol.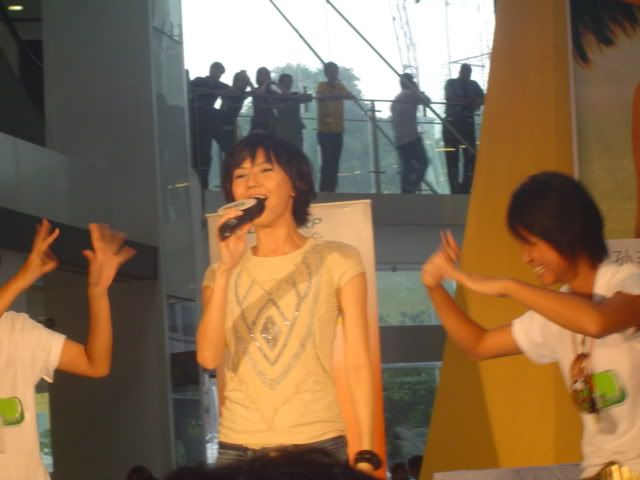 Time to queue up ... holy crap, 2000+ over people.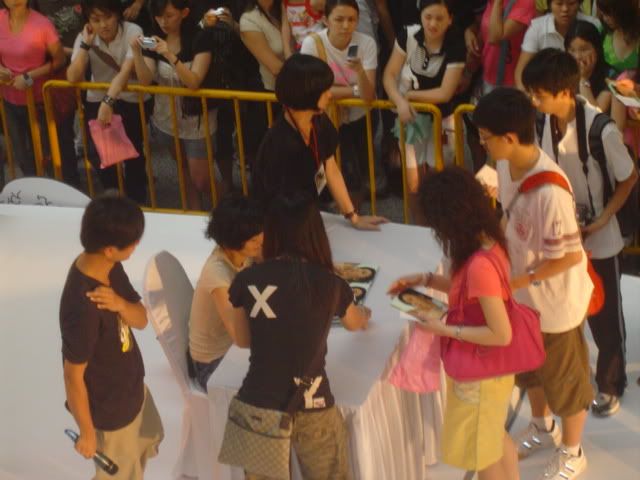 YanZi made an effort to smile at every fan and me after signing XD.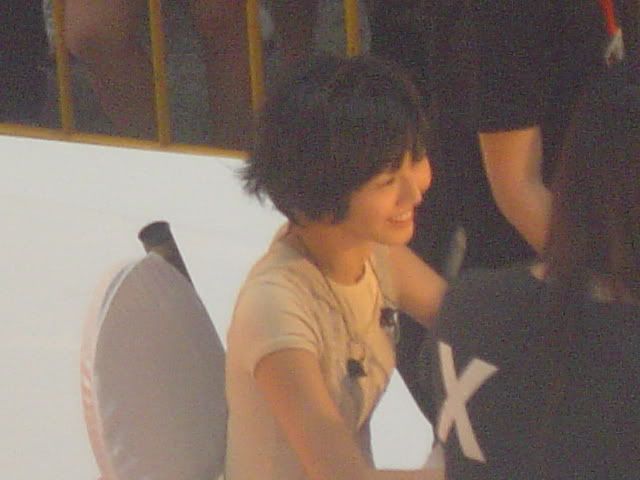 Two PROUD additions to my collection =), both signed but one of them got smudged =(.
BUT, it's okay, I had a fun day, everything was orderly. I think the YanZiUnlimited FanClub committee members did GREAT in assisting the success of this autograph session. They were the one giving out queue cards, informing the fans to buy SINGAPORE/TAIWAN version ALBUMS only, rest were not accepted.
It's a really really fun day, even though I slacked there like an idiot/moron for like 7 hours ... 8.30 AM - 3.30 PM lol. Woke up at 6.30 AM this morining cos I was too excited to sleep ... hehehehe. It's been more than a year YanZi last release a new album, so it's a MUST GO event for me.
I think that's all =) =) =). A VERY HAPPY and BLISSFUL girl tonight. Sweet dreams.
PS: YanZi's Ni Guang is NUMBER 1 in this week's Yes 933 Long Hu Bang, YAY, well done everyone! Continue voting and kick, you-know-who
coughsunhocough
OUTTA LHB HAHAHAHAHA.
EDIT: Btw, I noticed quite a number of people after listening to the Song of the Month, 'Guci Guci' I uploaded are now interested in YanZi =), really happy to see more YanZi fans around heh. Oh, here's the
MTV from youtube
of 'Guci Guci', enjoyyyyy!!!
I'm on TV in the Channel 8/U news!!!! LOL.
[Signing off @ 9:31 PM]